How to play Keno
The game of Keno is played with 80 balls that are uniquely numbered from 1 to 80. Your aim as the player is to select anything from 1 to 15 numbers, and when you are playing online you do that by clicking your selections on a grid of squares numbered 1 to 80.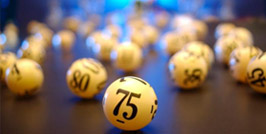 When you have finished choosing your numbers, take a look at the payout schedule on the screen and you will see how much you stand to win by matching some or all of your selections. The stated prize values are based on a bet of 1 unit, so if you choose to bet more than 1 unit on the game you should multiply them accordingly.
After checking that you are happy with your selections and the prize values that you are playing for, press the Play button. The game will then begin and 20 numbers will be drawn at random. Any numbers that you match will be highlighted as they appear so that you can see how much you stand to win at any point. When all of the numbers have been drawn, any prize that you are due will be added to your account automatically.